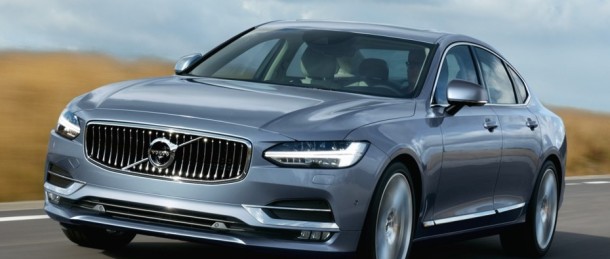 Volvo's semi-autonomous S90 can detect animals and connect you to the cloud
Simply embracing old-world opulence isn't enough to distinguish a luxury car anymore. After all, anyone can add high-end leathers and open-pore wood to an interior.
So what's next? Using technology to improve the ownership experience, whether it's improving connectivity, performance, efficiency or safety. And that's exactly what the all-new Volvo S90 does. However, it does it with a decidedly Swedish style flare that helps differentiate it in the luxury sedan marketplace.
Starting on the outside, the S90 includes Pilot Assist, a semi-autonomous system that, as Volvo puts it, "gentle steering inputs to keep the car properly aligned within lane markings." It also incorporates Adaptive Cruise Control (ACC) that can seamlessly adjust vehicle speed with the flow of traffic.
The S90's City Safe system also now incorporates a world-first: Large animal detection, a system capable of detecting large animals such as elk, horses or moose, night or day. More than just detect them, the system "offers an intuitive warning and brake support to help avoid a collision."
As you can see from the interior images, the Volvo designers went all-out with Scandinavian design that perfectly blends the aforementioned wood and leathers with technology, specifically the large Sensus infotainment touchscreen in the center dash. And it's on that big, beautiful screen that occupants will be able to access the Volvo cloud-based app services, called Sensus Connect, which includes apps like Yelp, Wikipedia, Pandora and more.
In terms of propulsion, while the S90 will offer several different powertrains, the flagship will be the T8 Twin Engine plug-in hybrid system. It combines 400+ horsepower with the serenity and eco-friendliness of a plug-in hybrid.
Volvo aims to use the S90 to expand its lineup. Although it's offered full-size sedans for many years, including the current S80, it's known around the globe for its wagons and crossovers.
The S90 will likely not make much of an impact in the American market, but it could be a big seller in the burgeoning Chinese market that, for some reason, lauds big sedans over almost every other vehicle type.
Source : www.mashable.com
Author : Nick Jaynes