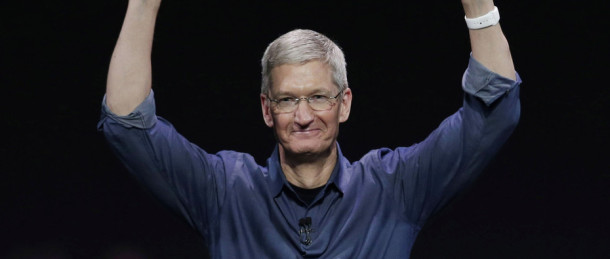 Tim Cook and Apple execs talk product design, encryption and what's next
Sunday night's 60 Minutes provided a rare look inside of Tim Cook's Apple, the executives that keep the company ahead of its competitors, and tidbits on Apple Watch iterations, the rumored Apple Car and more.
In the past, Cook has granted TV correspondent Charlie Rose insight into Apple's philosophy and product approach.
In addition to Cook, the 60 Minutes segment granted Rose access to a Chief Design Officer Jony Ive, Senior Vice President of Worldwide Marketing Phil Schiller, Senior Vice President of Hardware Engineering Dan Riccio, Senior Vice President of Retail and Online Stores Angela Ahrendts, and Senior Director of Camera Hardware Graham Townsend to discuss security and encryption, product design, retail stores, taxes, manufacturing and what's next for the most valuable company in the world.
Years after Steve Jobs' passing, Tim Cook's Apple has become the topic of hot discussion by supporters and adversaries from all sides, despite the company's meteoric growth, especially in Asia.
Even with record-setting sales, Apple's products have been accused of being less Jobs-like and marred with more compromises. The iPhone 6 and 6S's exposed antennas and rear camera lens "bump," and the recent "hump" on the Smart Battery Case, are a few examples of Apple's so-called "downfall."
Rose kickstarted the segment with Cook talking about Jobs and his legacy. Cook, of course, said he "never met anyone on the face of earth like [Jobs]" and reiterated Apple is "still Steve's company."
On the topic of the Apple Watch not being as big of a breakout as people were expecting, possibly due to its sometimes-confusing interface, Cook slyly avoided directly admitting its shortcoming and said there's always room for product improvement.
"I'm not disappointed in it…. When we launch a product, we're already working on the next one. And possibly even the next, next one. And so yes, we always see things we can do."
Cook's comment suggests version 2.0 of the Apple Watch could be the real killer smartwatch we've all been waiting for. That's not surprising if you look back at the original iPad, which launched to much fanfare, but didn't become a must-have device and juggernaut until the iPad 2 launched a year later with a thinner design, faster performance and built-in cameras for FaceTiming and more.
No news on Apple Car…
As expected, Cook didn't blab about any possibility of the rumored Apple Car.
"One of the great things about Apple is we probably have more secrecy here than the CIA."
On Apple design with Jony Ive…
Rose was also granted rare access into Apple's top-secret industrial design studio, the secret lab where Apple designers and engineers work on future products that have yet to be released. Chief Design Officer Jony Ive revealed to Rose his 22-person team "made 10 different-sized [iPhone 6 and 6S Plus models] before deciding which worked best."
Ive, known for greatly caring for the tactile feeling of materials, explained to Rose how the final iPhone 6 and 6 Plus designs were picked "because partly they just felt right" and "emotionally they felt like a good size."
While rapid prototyping of designs to get a sense of their tangible qualities is key to creating new products, its designers always start with a sketch before switching over to a computer-aided design (CAD) model.
Talking new MacBook and iPhone 6S camera
On the new MacBook's ridiculously thin and light design, Rose spoke with Senior Vice President of Hardware Engineering Dan Riccio.
Riccio explained how Ive went to him looking to engineer a battery that could last all day and fit into the svelte aluminum casing. Apple ended up using a "terraced" battery that squeezes more battery into as much of the chassis as possible.
The iPhone 6S has arguably the best smartphone camera out of any smartphone.Mashable declared it the best smartphone camera due to its consistency across multiple tests. And according to Flickr, the iPhone is the most popular camera in the world, more used than Samsung's smartphones and pro-grade DSLRs.
From Rose's conversation with Senior Director of Camera Hardware Graham Townsend, we learn the iPhone 6S's iSight camera (rear) has over 200 separate parts.800 engineers are tasked with working on the camera and calibrating it to perform in "any type of lighting." Theses tests are carried out within a special camera lab that can apparently simulate every imaginable lighting.
"Go to bright bright noon. And there you go. Sunset now. There you go," Townsend explained to Rose. "So, there's very different types of quality of lighting, from a morning, bright sunshine, for instance, the noonday light."
Designing stores to 'transfix' customers
Switching gears to Senior Vice President of Retail and Online Stores Angela Ahrendts, Rose revealed the company has a mock Apple Store prototype just offsite of its main campus. Here, Ahrendts has meetings every week to get customers "transfixed from the moment they walk in through the doors."
"The most important goal is, is that it is dynamic," explained Ahrendts. "People are used to living on their phone. So they're used to being dynamic, emotive, immersive. And so how do we make sure when they walk into a store they say, 'Wow'?"
Manufacturing in China, privacy and Apple's 'spaceship'
Wrapping up the interview, Cook talked at length about how Apple wasn't dodging taxesby keeping revenues held overseas.
Cook called the allegations "total political crap" and there "was no truth behind it" and the company pays every tax dollar it owes.
When pressed by Rose, Cook said: "Because it would cost me 40 percent to bring it home. And I don't think that's a reasonable thing to do. This is a tax code, Charlie, that was made for the industrial age, not the digital age. It's backwards. It's awful for America. It should have been fixed many years ago. It's past time to get it done."
On the topic of manufacturing its products in China, Cook was adamant about the matter being a skill issue and not a cheap labor one.
"…China put an enormous focus on manufacturing," Cook told Rose. "In what we would call, you and I would call vocational kind of skills. The U.S., over time, began to stop having as many vocational kind of skills. I mean, you can take every tool and die maker in the United States and probably put them in a room that we're currently sitting in. In China, you would have to have multiple football fields."
Cook, of course, reiterated that Apple takes the working conditions at Chinese factories like Foxconn very seriously and is constantly conducting internal reviews at its partnered manufacturers to ensure workers aren't being mistreated and overworked.
Speaking on privacy, Cook said Apple doesn't support giving authorities and government a way to decrypt a user's iPhone data because it can't.
By design, Apple doesn't have access to encrypted iPhones. "In the case of encrypted communication, we don't have it to give. And so if like your iMessages are encrypted, we don't have access to those."
The last thing Cook walked Rose through was Apple's new spaceship-like campus. The $5 billion headquarters is wider than the Pentagon and will house 13,000 employees.
Source : www.mashable.com
Author : Raymond Wong