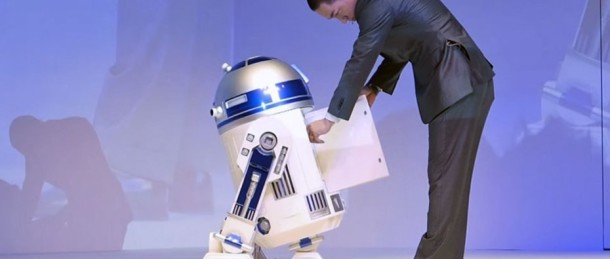 Life-size moving R2-D2 fridge has an unearthly price tag
If you want to own Haier's remote-controlled R2-D2 refrigerator, it's going to cost you — big time.
Haier tells Mashable the life-sized droid fridge with a built-in projector will cost "approximately $9,000." When we asked a Haier representative if that was a joke, they assured us it wasn't. Yikes! Better start saving those pennies!
The robot refrigerator can move and it can store six 350-milliliter cans. It was first shown off in Japan back in June. Haier plans to bring the $9,000 fridge and demonstrate it atCES in January.
Haier says the Artoo unit's battery is good for up to two hours of movement via its remote control and has a maximum speed of 0.6 miles per hour.
The built-in projector, which would make Princess Leia proud, can project 720p HD projections with 32 lumens of brightness. It has a 80,000:1 contrast ratio and supports Miracast for Android.
Source : www.mashable.com
Author : Raymond Wong