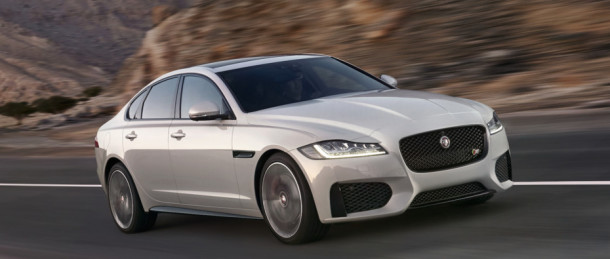 Jaguar engineer: A mishap with Tesla's Autopilot could set back self-driving cars by a decade
Your brand-new Jaguar won't steer itself or automatically change lanes. But that's not because the British brand doesn't have the technology. It's because, according to one Jaguar engineer, the company believes semi-autonomous tech is dangerous.
Jaguar's collision mitigation automatic braking system currently offered in its new models will, in the case of an imminent collision, slow the car thereby limiting collision force. However, it won't brake the car hard enough to stop it. Rather, Jaguar leaves it up to the driver to apply full braking force. Collision mitigation braking is simply there to help.
That's not because the Jaguar system isn't strong enough to stop the car. Instead, it's because the system's engineers worry what message such an automatic full-stop system would send to drivers, giving them a "false sense of security," XF project manager Stephen Boulter said.
If drivers knew the car could avoid a highway collision autonomously, they would never make the effort to even try. And it's that arguably specious reasoning that keeps Jaguar from embracing most semi-autonomous systems, including autonomous steering, offered by its competitors — notably Tesla.
"We have the same hardware as Tesla," Boulter pointed out to Mashable at the launch of the 2016 Jaguar XF on Thursday. "To do Autopilot, all you need is electric power steering — you don't need an EV."
It's true; Jaguar's Adaptive Cruise Control system is powered by similar digital cameras and radar sensors as Tesla's Autopilot. Combining those and its new electric power steering system, Jaguar has the tech to implement an Autopilot-esque semi-autonomous driving system of its own. However, it hasn't because, Boulter said, the British carmaker believes the tech simply isn't ready, from a safety standpoint.
Elon Musk himself perfectly underscored both Boulter and Jaguar's concerns recently when he said Tesla would begin constraining Autopilot after seeing the "crazy things" owners were doing with it.
Moreover, Boulter believes implementing Autopilot virtually without restriction was "very irresponsible."
"If something happens [with Autopilot], it could set the technology back a decade," Boulter said. That's because an Autopilot-caused fatality could scare drivers and lawmakers away from autonomy for years.
Despite concerns with semi-autonomous tech, Jaguar is still moving forward with fully autonomous tech testing. Boulter divulged that the company will soon be testing self-driving cars on the roads in Gaydon, England.
Representatives for autonomy leader Volvo raised such concerns about the safety of semi-autonomy to Mashable at the unveiling of its Concept 26 at the LA Auto Show. Volvo also prefers full autonomy and is pushing that out as fast as possible. In fact, the Swedish automaker will have 100 customer-leased fully autonomous XC90s on the roads of Stockholm in 2017.
It's currently unclear how the path to full vehicle autonomy will pan out. It is clear, though, that many involved with the development of self-driving systems are concerned with unregulated semi-autonomous tech.
Source : www.mashable.com
Author : Nick Jaynes