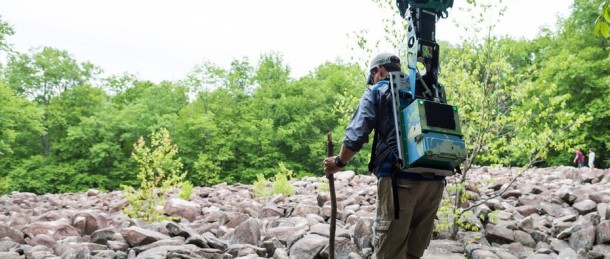 Google Street View helps smaller destinations showcase off-road attractions
In its quest to document the entire Earth, Google has been expanding Street View further into areas where streets don't go. The company announced over two years ago that it was looking for outside help to capture roads-less-traveled with its Trekker backpack camera, which captures 360-degree photos similar to the Street View car.
Smaller regions such as Bucks County, Pennsylvania and parts of Michigan are among the latest to join the ranks of the Eiffel Tower, Mt. Fuji and the Galápagos Islands in Google's off-road Street View collection. Other places which recently received the Trekker treatment include Florida's beaches, the Hudson River and over two dozen Australian national parks.
Google Street View is an extension of Google Maps and consists of photographs taken with multi-camera devices to create panoramic views of roads and more all over the world.
Deanna Yick, Street View program manager at Google, tells Mashable the partnerships between Google and local organizations help expand Street View into areas that Google otherwise can't get to within reason. The goal is to create a comprehensive image of the world, which helps people get to know a place before they get there or help orient themselves when navigating. "No one likes feeling lost," Yick says.
"There's only so many places we can go," she says. "There's so many interesting places that we can't get to.And that's where the Trekker loaner program comes in.
Visit Bucks County, the tourism promotion agency of Bucks County, got its hands on a Google Trekker and documented over a dozen attractions, including parks, a winery and a 125-foot tall stone tower. After applying for the Trekker and working with Google to select locations to capture, the team at Visit Bucks County received the approximately 40-pound camera backpack in May and got working.
Not only does increasing Street View improve Google's image of the world, it helps places like Bucks County show what they have to offer to visitors before they make the trip.
"People want to see these kind of things when looking up somewhere to go," said Paul Bencivengo, vice president of the agency. "Documenting these locations allows people to immerse themselves in the experience if they aren't able to make it out themselves."
"A parent could give their kids a computer or tablet and they can go across the Washington Crossing Bridge, where George Washington crossed in Bucks County, and learn about the history of it."
Michelle Grinnell, travel PR manager for Travel Michigan and the Michigan Economic Development Corporation, says Michigan was the third state destination marketing organization to receive a Google Trekker. In 2013, volunteers from MEDC took the Trekker around for four weeks, capturing 44,000 panoramic pictures of parks, Ford Field where the Detroit Tigers play and Mackinac Island, which Grinnell says has no cars and is only accessible by ferry.
"It's really about raising awareness of Michigan as a destination," Grinnell tells Mashable. "
The exposure we get from having these destinations on Google Maps is really huge for us."
The promotional video for Michigan's Trekker tours has reached 82 million impressions across four continents, Grinnell says.
The Trekker and its delivery was subsidized by Google for Visit Bucks County, so the team only had to provide time and a local filming permit. The Trekker also comes with an Android phone for helping to capture the scene.
"After a couple of miles you can start to feel it," he says about the 40-pound rig. "We walked hundreds of miles around Bucks County."
The Trekker isn't just for anyone who wants it, though. Google says on the application page it is looking for people who can "represent an organization such as a tourism board, non-profit, government agency, university or research group that would like to take photos."
So don't expect to get a Trekker just to show off your recently-landscaped backyard.
Bencivengo says Visit Bucks County is working with Google to capture indoor spaces too, including its wineries, later this year.
"At the end of the day, it's really about the visitor," Bencivengo says.
Yick says people who are already located in areas are better suited than a Google employee guessing as to what the best locations are and how to navigate them.
"They really care about these locations," Yick says.
Since its start in 2013 in Hawaii, Google's Trekker loaning program has had more than 200 partnerships with groups, including tourism boards, universities and non-profit organizations.
Source : www.mashable.com
Author : Kellen Beck